The Twin County Community Foundation Scholarship Program began in the fall of 2019. Partnering with Wytheville Community College, the foundation provides scholarships to eligible students in healthcare related fields. Scholarships are awarded at 100% of tuition and fees after all other scholarships or grants are utilized.
In an effort to benefit even more graduating seniors in the local area, the foundation expanded their scholarship program to include all other areas of study. Those attending WCC beginning in the fall 2021 semester will be eligible for 100% of last dollar tuition in all programs.
For more information,  please access the WCC Educational Foundation website here.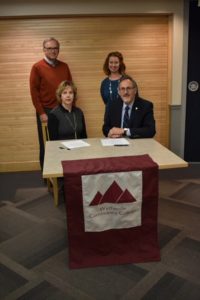 Jane Patton, TCCF Board Chair, and Dr. Dean Sprinkle, WCC President sign the expanded scholarship agreement. Also pictured, Dr. Oliver McBride, TCCF Treasurer, and Terri Gillespie, TCCF Executive Director.